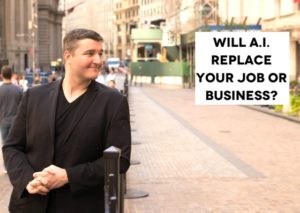 You might know me as a coach, an author, and speaker. Someone you may follow on Instagram or Facebook to get more inspiration in your day.
What you don't know is that I am totally in love with technology and how it's making our lives better, this includes machine learning, artificial intelligence, and other emerging fields.
If you've seen shows like Black Mirror, watched Terminator growing up or listen to the likes of Elon Musk, you might be terrified of AI.
But, you don't need to be.
AI and Machine Learning is being deployed in every market across the world to aid in creating better products, gaining better insights from data and in innovation.
We are also seeing robots who are now flipping burgers instead of humans.
And, according to waitbutwhy.com, "algorithmic high-frequency AI traders account for more than half of equity shares traded on US markets."
So, if robots are now flipping burgers, trading stocks, and many other previously human only tasks, where does that leave you?
Well… that depends.
If you have a simple, tasked-based job like flipping burgers, being a telephone operator, a telemarketer, bookkeeping clerk, receptionist, retail sales and other similar vocations… you need to start thinking about your future.
If you want to know the likelihood of your job being replaced by AI, Will Robots Take My Job is a great website to visit to see the likelihood of your job being replaced.
What kind of jobs won't be replaced soon?
Jobs and business with soft skills, like empathy, connection, relationships and creativity.
In fact, in a recent Fast Company article the say, "We may live in a digital world, but soft skills like communication, problem-solving, collaboration, and empathy are becoming more valued than technology…"
Fast Company goes on to say:
"People skills are more and more important in an era where we have powerful and pervasive technology," he says. "It sounds counterintuitive, but to beat the bot, you need to be more human."
This is good news for you.
If I had to bottom line it for you, this is what I would say:
AI will replace and "task" or "widget" type job. The monotonous and boring jobs that require little soft skill engagement and simple repetitive tasks.
And, with every paradigm shift in our world, jobs will go away… and brand new jobs we can't even imagine will be created.
When America was primarily an agricultural power, over 90% of the workforce was made up of farmers.
When we evolved from the era of agriculture to the industrial revolution, many farming jobs were eradicated in the process, however – brand new industrial jobs were formed.
And the same thing is true with the coming AI revolution. Industrial style jobs will be a thing of the past, and more soft-skilled jobs will be needed for the future.
This means, jobs with purpose, with connection, with human-to-human interactions being prioritized.
Jobs with more creativity and less widget work.
In short: you will have work that is less in the weeds and more in your ability to be creative and relate to others.
If you want to future proof your job or your ability to earn a living… starting a business… going into science, being an artist, being a nurse or coach – anything that is people focused and creative is what you want to focus on.
Here's a great article from The Guardian about how to pick a job that is "future proof."
All signs are pointing to a bright and noble future. One with creativity, connection and softskills at it's core.
And, perhaps the best way to future proof your job and ability to earn money is to discover your Purpose.
No A.I. can replace YOU and YOUR PURPOSE.
You and your Purpose are totally unique, creative and requires those softskills for you to be successful.
If you want to beat AI, beat the bot, beat the robots… you've got to become more people-focused, more creative and more human.
The only way to future proof your job or career from A.I. is to discover your Purpose and then bring it to life.
If that's something you need help with, I can help you.
My book, Claim Your Power, is a 40 day journey to bring your Purpose to life. I'll coach you to discover your blindspots and hidden blocks, hack your nervous system, clear out old traumas and get clear on your Purpose.
You don't need to worry about not reading the book, or not following through, I've also put together a totally free 40 day book accelerator course to guide you through the book each day.
You don't need to worry about AI if you're living your Purpose. You don't need to worry about job security if you're living your Purpose. You don't need to worry about providing for your loved ones if you are living your Purpose.
It'd be my honor to guide you through the process and to future proof your job, your career and your ability to beat the bot.
>Start your journey right here.
Remember to get out there, take action and make your Purpose real.
Your biggest supporter,
Mastin