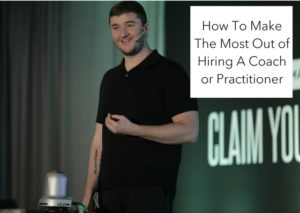 Coaching, it's here to stay.
Yes, I am biased.
I am the creator of Functional Life Coaching, which is a brand new form of coaching that combines getting hacking your nervous system and healing past traumas and how to move forward and align with the future you dream about.
Nonetheless, coaching is here to stay.
We live in a world of more and more information. And, we live in a world of more and more specialized information and data.
We all take in so much information each day; it can be overwhelming.
This is where coaching comes in.
Coaches can help you take the information that you have and guide you and help instruct you to make the best changes with the information you have.
I call this process of a coach guiding you to sift through and optimize all the information that's available to you to produce the best result – Coachification.
Coachification is a trend that hasn't even gotten started yet, but it will and fast.
Cutting edge start-ups like Viome are using coaches to help their clients breakdown the amazing data of their gut microbiome health.
Functional Medicine Doctors turn to organizations like the Functional Medicine Coaching Academy for coaches who can help their clients implement and stay aligned with their functional Doctor's recommendations.
Health coaches, business coaches, life coaches and many other niche coaches are emerging to help you stay aligned and get results.
But, how do you get the most out of your coach?
What if you are terrified of hiring a coach?
What if you don't know how to use a coach the right way?
How can you tell if the coach you are or want to work with is any good?
I've worked with tens of thousands of people both in person and online as a coach I've spent nearly $1,000,000 on my own personal development and coaches – so I have a unique perspective as both a coach and a client.
Here's How To Make The Most Of Your Coaching Relationship:
1. Make sure your coach has walked the path. Don't hire a mapmaker, hire someone who's walked the terrain, because the map and the terrain are never the same.
2. Investing in coaching does not get a return on your investment the same way stocks do. Your ROI in coaching is your Return on Implementation. When you invest in a stock, you do nothing and hope it goes up. When you invest in coaching, you need to get off your butt and do the work.
3. Google the coach. Find case studies. Past client experiences. There will always be a small number of people who are unhappy with any service. But, look for the majority of online feedback about the coach.
4. Know how to interpret negative feedback about coaches. Every coach has a client or two (or a small % if they work with LOTS of people) who just don't do the work and then blame the coach. When you are seeking out negative feedback, look at the rest of what someone is posting. Do your best to determine if it's legit, or just someone blaming a coach for their lack of implementation.
5. Expect regret. It's common to feel really great about your investment with a coach. And then, a couple days or week later want to quit and get a refund. Don't do it. This is just your nervous system acting like a thermostat and trying to pull you back to your normal life. There will be fear in the beginning of working with a coach who will stretch you, embrace it and use it to move you forward.
6. You've got to think of coaching the same way you think of personal training. It's a process that takes time. The coach can't do the reps for you, and you've got to stay consistent. Don't go for the quick aha moments, really focus on small steps daily.
7. Hire the best and don't trade. Go for expert level support. Invest in the best and do what it takes to stay invested. Don't trade services. The financial exchange keeps you honest and on your toes.
8. Use the coaching service to the fullest. Don't hide. Don't feel bad about asking questions and engaging. You invested your hard earned money into this coach, feel free to jump all in (while making sure to respect any professional boundaries of the coach or the program).
9. Your coach is not your friend. Even though they know you well, you can't be friends with your coach – that defeats the purpose. Keep a professional boundary with them, and don't be offended when they keep a boundary with you.
Coaching is a wonderful thing. Coaching can shorten your learning curve, help you implement faster and accelerate your results.
Make sure you pick the best coach. Make the right decision and then work hard to make the decision right by showing up, implementing and playing full out.
You got this.
Remember to get out there, take action and make your Purpose real.
Your biggest supporter,
Mastin