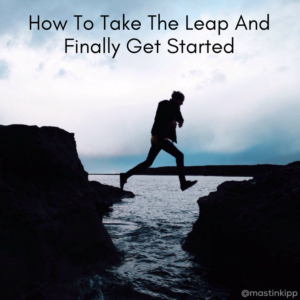 WARNING: This message contains some profanity, whose sole Purpose is to help you finally get into action doing what you love. I think you'll like it, but you may not. If profanity isn't your thing…. do not ready any further. Do so at your own risk.
Do you want to know what stops most people from really getting results in a new business idea or life transition?
It's not a lack of time.
It's not a lack of money.
It's not a lack of having startup funds to create your dreams life or business.
And it's not a lack of knowing where to start.
But, that's what most people believe. They need more time, more money, more funds and they need to know EXACTLY where to start.
Let me be clear: NO.
It's simply not the case.
Most people spend all their time gathering information about how or where to start, but they never actually start.
Most people are "getting ready" to get ready. They are 99% ready, but still not in action… why?
It's simple….
You haven't hit your "Oh, fuck!" point yet.
We'll call it the O.F. Point for brevity in the rest of this blog.
Typically there are two ways to finally get started.
The first is the most common way…
You wait until there is an "Oh, fuck!" amount of money in your bank account, and you finally need to take action… because you finally hit your O.F. point.
Human beings are designed to avoid uncertainty…. However, when you hit your O.F. Point – all the stories you've told about time, money, resources and clarity go out the window… because you don't have the luxury of procrastination or delay anymore.
We tend to only to need to hit our O.F. Point when it comes to projects and goals that are uncertain.
I've never met someone who had a cheat meal that they treated like their dream business they haven't started yet.
"Sorry, I don't have the time to eat that chocolate and yummy carbohydrate…" said NO ONE EVER.
"You know what, I need to have a better understanding of how exactly I am going to eat each bite of this delicious cinnamon roll before I start eating it…" said NO ONE EVER.
"Actually, I need to have at least $5,000 in startup capital before I enjoy this delicious bag of movie popcorn this weekend…" said NO ONE EVER.
Or… if you enjoy a glass of wine every now and then. How many rules do you have about drinking wine?
Do you treat your wine, chocolate, popcorn, cinnamon rolls or any other dessert or enjoyable food experience like you treat your dream business?
Do you delay, do you talk about all the reasons why not? Do you wait for your circumstances to change before you take action?
"Well, there is no wine in the house right now… so I guess I'll never have any wine…." said NO ONE EVER.
If you wanted a glass of your favorite red and it wasn't in your current experience or circumstance… you would get off your butt and take generative ACTION to create your desired outcome.
So… the short of it is this… treat your dream business like you treat chocolate, wine, popcorn, cinnamon rolls or any enjoyable food or beverage.
Have little to no rules about what has to happen before you take action, if it isn't in your current experience or circumstance, stop declaring what's missing and get off your butt to create the thing you want to experience.
And, for the love of gluten-free chocolate chip cookies, stop telling yourself you don't have the time, the money, the resources or the clarity and JUST BEGIN.
Stop gathering information about how to begin and start gaining experience about what beginning feels like.
HINT: it will feel messy, imperfect and scary.



If you do not do this… you will stay the same until you hit your O.F. Point.
I said there were two ways to go…
The first way is what I described above… your O.F. Point. It's more painful than the second way to go about it.
In the second way…. it's far simpler, but required a lot more faith and courage from you.
And… for this second way… there is a perfect role model for how to create success, and it's not who you think.
Forrest Gump – is perhaps the worlds best role model for success.
He shows up, to whatever life is presenting him, he doesn't overthink it… and in his southern accent simply says… "OK".
Be like Forrest and just say "OK" to whatever life is serving you with right now. Say "OK" and then take the action to do what you love with baby steps.
Don't overthink it… just take action and improve as you go.
So, it's your choice… you can either wait until you hit your O.F. Point… or you can be like Forrest and just say "OK" right now… no matter what your circumstances may be.
Tell me… which path will you choose? And why?
Remember to get out there, take action and make your Purpose real.
Your biggest supporter,
Mastin
P.S. Remember to treat your dreams like you treat your favorite dessert.