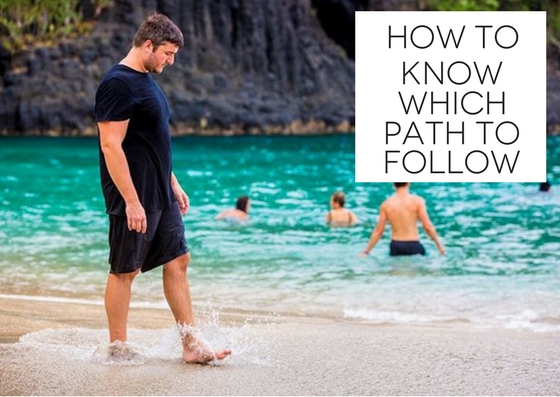 Want to know which path to follow? I can help.
Let's start here:
Ban the words "I don't know" from your vocabulary.
And… any similar or derivative type phrase or sentiment.
Here's the thing: you won't always "know" and if you need to "know" before you get started to start taking action… then you will never… ever… ever… know.
If you want to know which path to follow, give up the idea that you need to know anything. Give up the idea that clarity is something that happens at the beginning of the journey. Give up the idea that you will have a perfect plan. Give up the idea that you have to do things perfectly.
Then… you will start to know the right path to follow.
Here is another tip: trade the idea of finding your passion or your Purpose for solving problems in the world.
A funny thing happens, when you take the focus off of yourself and instead focus on solving problems of the world… you tend to not only survive… but thrive.


And… even cooler than that… when you focus on solving problems that you love to solve… that is how you find your Purpose and your passion.
However… you will never "know" the right path.
Here's something that not everyone will tell you: we are all just guessing.
Everything I do is an educated guess. Put another way… it's an educated experiment.
We tend to take trying new things, taking risks and putting ourselves out there waaaaaaay to seriously.
If you viewed your life as an experiment in solving problems that you love to solve instead of some pressure cooker of perfection and clarity and needing answers before you start…. you would get so much further along in your life.
Trade perfection for experimentation….
Trade finding your Purpose and passion for solving problems…
Trade needing clarity and "knowing" for just trying things out and seeing what happens…
Trade needing certainty and safety for calculated risk and facing uncertainty…
Trade big lofty goals and dreams for tiny baby steps that move you forward each day…
Do this daily… and pretty soon you will know exactly which path to follow.
You got this.
Remember to get out there, take action and make your Purpose real!
Your biggest supporter,
Mastin