In six weeks last fall I dropped 55 pounds because I finally cracked the code on my body and what it really needs.
It was a game changer.
$200k spent over two years trying to figure it out.
Tests. Doctors. Nutritionists. Labs.
Finally, I figured out what my body needs and what I can do to help become as healthy as possible.
NOTE: I am writing about my very personal weight loss journey, I know that there are many coaches/nutritionists and weight experts in this community… I am not soliciting advice from you, and while I appreciate your concern, I am 100% happy with the coaches/mentors and people in my life who are guiding me in this process, so please know that while I am soooo grateful for your concern or to share your knowledge with me…. I'm all set. This note is not a call for more tips…
When I arrived home from Bali – I stopped the weight loss process.
Almost like taking a breather. A little pit stop.
Mostly because I had just moved and getting into a routine was difficult.
And I was happy with the weight I had attained. I've maintained a state of health and there are no signs of pre-diabetes in my blood work, which is awesome! Since January I've remained the same weight, and it's been awesome to maintain that weight loss.
Now, I am picking up where I left off and restarting phase 2.
I am happy with my progress and enjoying the fruits of my hard work.
A couple of days ago I met with my nutritionist, Kevin Libby and we created a plan for the next 50 pounds.
Looking at me you wouldn't think that there are 50 pounds to lose, but… I'm almost 6'5.
That spreads out a lot on this tall frame.
What's so exciting about this next round of dropping weight is that I am feeling so centered about it.
Kevin isn't into restriction or hating your body. Kevin and I are working together to actually give my body what it needs, and there is no feeling of restriction.
Some of the primary ingredients for my continued weight loss is focusing on de-stressing my life even more, as well as getting ample sleep.
So, sleep and de-stressing are some of my top priorities right now.
And, the best supplement, drug and "weight loss secret" there is is… FOOD.
What I actually eat.
I've maintained my weight, which is healthy.
It's not good for the body to be in weight loss mode for too long. So, I maintained.
Now, I'm dropping again.
And, I am at peace with it. I think my favorite thing about this journey is being at peace with my plate.
I have mostly reconciled my adversarial relationship with food.
Of course, cravings come in every once in a while, but I have the tools and the knowledge to know how to handle them.
I was thinking about posting my routine, but I didn't want to impose on you.
You see, each person is different, so I am hesitating to post my routine.
But, if I get enough responses I'll post my whole routine – with the caveat that it's my routine, which may or may not work for you.
One of the dangers I found in the fitness space is thinking that one size fits all.
It doesn't.
So, I had to find my groove, but I'd be happy to share what I learned with you.
If you're interested in that… just comment, and I'll write something up if I get enough interest in this topic.
And… in the spirit of round 2… what can you re-start in your life?
It's almost October… which means we are nearing the end of 2017.
Are there any commitments or goals you put down that it's time to pick up?
What are they? Is it time for you to restart?
Join me in round 2… and let's follow through on 2017 and make it epic.
And most importantly…. let's have fun… like this guy…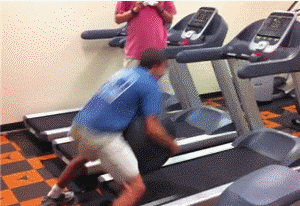 Remember to get out there, take action and make it real!